Featuring Local Artists
Tyler Street Stacks will feature all local artists throughout the community including a large exterior mural by non other than, Chuck U! Learn more about each artist.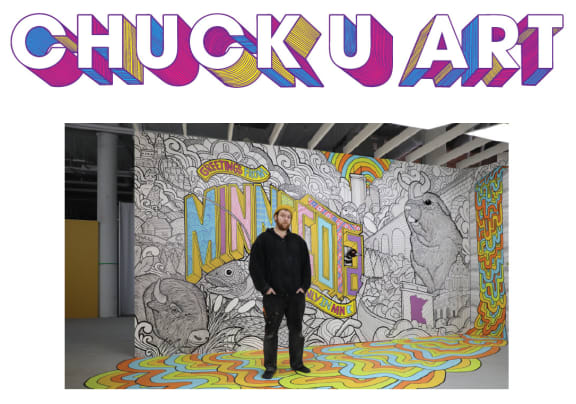 Chuck U | Painter, Illustrator and Muralist | Minneapolis, MN
Chuck U specializes in whimsical yet intricate works that celebrate the unusual and unexpected.
His pieces are populated with fanciful flora, fauna and unusual landscapes that are playful yet masterful and aim to spark imagination and joy in the viewer.
Chucks prints utilize a combination of traditional pen and ink technique with digital coloring applications that are printed digitally or as limited edition screen prints. His paintings and murals are approached with a similar sensibility but take on a life of their own transporting the viewer with scale, color, and the skillful line work that has become his signature.
Influenced by artists such as Eastman and Laird, MC Escher, and James Jean, Chuck U continues to bring his own mix of the delightfully unpredictable with the intricately elaborate to create works that are boisterous, witty and memorable.
Patrick Pryor | Artist | Minneapolis, MN
Patrick K. Pryor is an entrepreneur, artist, business person, and one-time actor living and working in Minneapolis. He is the owner of Nolo Art Consulting - bringing finely curated art collections to multi-family, hospitality, and corporate clients from coast to coast. Nolo is on a mission to rid the world of bad art. As an interdisciplinary visual artist he explores painting, sculpture, and digital collage.

Nmph | Artist | Minneapolis, MN
Based in the American Midwest, Nmph cut his teeth on graffiti at 15, spending the decades since painting colorful, contorted letterforms across a variety of surfaces. Though still focused on evolving in this pursuit, when it came to the merits of his gallery/studio efforts he pivoted to magnify and expand upon the designs and personality that fill and cushion his letters. Building them into a distinguishable style of layered abstractions, comprised of vibrant colors, gesturing-geometric shapes, and viscous-organic forms. These background traits became the foundation for his composition heavy mural and studio work.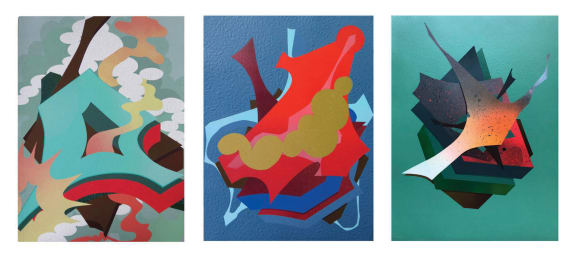 Emily Quandahl | Muralist | Minneapolis, MN
Emily Quandahl is an abstract artist and muralist based in NE Minneapolis. Her compositions utilize bold palettes and textures that are built up in layers, pulling inspiration from her surroundings through texture, shapes, and color. Focusing on finding balance in contrasting subjects found in her life, she deconstructs the expected, and puts the pieces back together through layering and patterns.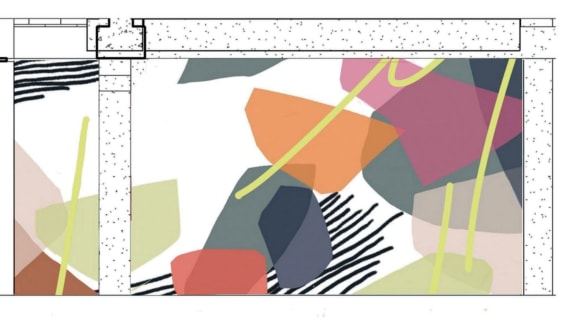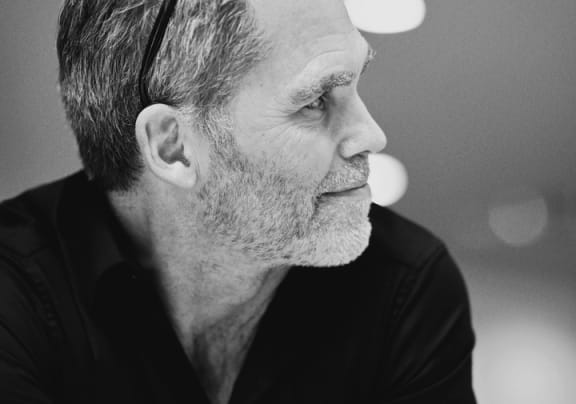 John Gerber | Fine Artist | Minneapolis, MN
John Gerber is a Minneapolis-born artist with over 25 years of experience in illustration, fine art, and graphic design. He graduated from the University of Minnesota with a Bachelor of Fine Arts degree, and his work has been influenced by some of the most prominent artists of the 20th century, including Frank Stella, Pablo Picasso, and Piet Mondrian. John's style is a fusion of these influences, as well as his own unique vision.
Throughout his career, John has been has been commissioned to create art for numerous public spaces and for patrons' fine homes and offices across the United States, and internationally. He has left his mark on notable local locations such as the AC Hotel, West End, The Regatta in Wayzata, and the Canopy Hilton Hotel in Minneapolis, among others. His art is characterized by bold colors, clean lines, and a dynamic energy that captures the essence of the spaces in which they are displayed.
The human form, faces and abstracts, including graffiti inspired pieces, all blend into a rich collection of offerings you may find in a given collectors home. All very different, yet created by one artist.
Overall, John Gerber is an artistic explorer, with a passion for creating pieces that inspire and create conversation. With his years of experience, combined with his dedication to his craft, constantly pushing himself to explore new ideas and techniques.
John hopes to continue being a part of the local and national art community long into the future.
John Gerber's work can be seen in person at the above public spaces, as well as 9 Mile Gallery in the District Edina Building (www.9milegallery.com) and also his website: www.johngerber.com.